LATEST NEWS
I am delighted that DARK DUET is on the Final Ballot for the 2012 HWA Bram Stoker Awards(R). I have huge gratitude and thanks to Stephen Wilson (my collaborative partner in this book) for presenting the idea and asking me to be part of this book. I'm so proud and honored at the recognition Dark Duet is attracting thanks to our words and the art of Kiri Moth and Jill Bauman, plus the thought-provoking introductions by Tom Piccirilli and one by Mike Arnzen. And a special thanks to Matt and the Necon eBooks gang for the extra caring put into taking our vision of this book and creating a beautiful reflection.
Check out the latest review of DARK DUET by J.L. Comeau at Count Gore De Vol Tomb of Dark Delights.
DARK DUET is available as a paperback from Amazon as well as an eBook, (publisher Necon eBooks) a collaborative book of poetry written with Stephen M. Wilson, inspired by music. Cover art by Kiri Moth and interior art by Jill Bauman, includes two separate (a duet) introductions one by Tom Piccirilli and one by Mike Arnzen.
FOUR ELEMENTS trade paperback and the signed limited hardcover is available, (publisher Bad Moon Books) with four sections written by four HWA Bram Stoker winners, Marge Simon (Earth), Rain Graves (Water), Charlee Jacob (Fire) and myself (Air), amazing cover art by Daniele Serra and beautiful full color interior section illustrations by Marge Simon.
I am very excited that my poem, Transmutation, has been nominated for a Pushcart Prize. It was in Issue 5/July 2012 of Eye to the Telescope.
November 28, 2012 as part of Kindred Reading Series I was featured with author Alaya Dawn Johnson at Singularity & Co, 18 Bridge St. 1G, Brooklyn, New York 11201.
July 27, 2012: I was at Bluestocking Bookstore with Kiini Ibura Salaam for a discussion (and booksigning) about go deeper into genre writing since being published in the groundbreaking anthology Dark Matter eleven years ago.
HOW TO RECOGNIZE A DEMON HAS BECOME YOUR FRIEND, received a HWA Bram Stoker award (my third!) on March 31, 2012. I was honored to be on the final ballot with Maria Alexander, Bruce Boston, G.O. Clark and Marge Simon. HWA Bram Stoker Full List of Winners.
HOW TO RECOGNIZE A DEMON HAS BECOME YOUR FRIEND (publisher Necon eBooks) is a collection of both horror and science fiction short stories and poetry, with cover art by Jill Bauman. It is available as an eBook from the publisher, Amazon, Barnes and Nobles and Smashwords online and print edition. Check out reviews at Collings Notes by Michael Collings, Horror World review by TT Zuma, The Horror Fiction Review by Nick Cato (search for Addison or scroll down page to find my book) and review by Douglas Cobb.
Horror World interview with me is online. They asked questions others have not asked so check it out.
My third collection, BEING FULL OF LIGHT, INSUBSTANTIAL (publisher Space & Time Books), received a 2007 HWA Bram Stoker award. This collection of 100 poems, most of them original, has wonderful photography and art by Brian J. Addison. It's available from Space & Time, Amazon.com and other places (see My Favorite Links).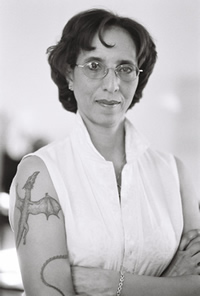 My first two collections: Consumed, Reduced to Beautiful Grey Ashes, and Animated Objects, are still available.
Listen to me...
I enjoy doing live performances so if you can't catch me at a reading (get on my mailing list) you can hear/see me read online at the following places:
Watch video of my reading three poems from my latest collection at Fearzone.
Listen to an interview (includes my reading a poem) at 2010 Beyond Blacula reading in NYC by blackscifitv
LESSONS & BLESSINGS
My life is lessons and blessings. How else to explain the path of life that has taken me from the tough streets of Philly to a quirky house in New York? Nestled in the midst of strange and wondrous items I joyfully write even stranger poems and stories.
Each event in my life holds different mixes of lessons and blessings, rarely 50/50. Often the situations that hurt are more lesson than blessing, but both are in the mix. Seeing each painful experience in this way heals the sting, makes me pay attention to the lesson and grow, to bring more light into my life.
My life
unfolding in unexpected dimensions:
take a skinny, awkward introvert,
mix in books of fables, science-fiction, fantasy, horror
Season with surprising blessings, people:
One taught me to laugh,
another to question everything
This one to know that there are no secrets
That one to see everything is hidden,
I learned to cry with my whole body,
That I am beautiful,
I am eternal,
Even broken,
I can heal,
rise from the ashes of a predestined life
find my authentic path
And know:
Unfolding life is imperfect.
Love the only truth.
Lessons and blessings
the only sanity…