LATEST NEWS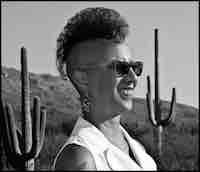 MY BOOKS

HOW TO RECOGNIZE A DEMON HAS BECOME YOUR FRIEND
(publisher Necon E-Books)
A collection of horror and science-fiction short stories and poetry; received a HWA Bram Stoker Awards(R).
BEING FULL OF LIGHT, INSUBSTANTIAL
(publisher Space & Time Books)
A collection of 100 poems; received a HWA Bram Stoker Awards(R).
CONSUMED, REDUCED TO BEAUTIFUL GREY ASHES
(publisher Space & Time Books)
A poetry collection, introduction by Charlee Jacob; received a HWA Bram Stoker Awards(R).
ANIMATED OBJECTS
(publisher Space & Time Books)
A poetry and fiction collection, introduction by Barry N. Malzberg.
PUBLICATIONS WITH OTHERS

SYCORAX'S DAUGHTERS, edited by myself, Kinitra Brooks PhD, and Susana Morris PhD. Cover artwork by Jim Callahan.
(publisher Cedar Grove Publishing)
A horror anthology of fiction & poetry by African-American women (some new, some known).

PAINFREAK anthology edited by Gerard Houarner.
(publisher Necro Publications) Charlee Jacob and I have the opening piece, includes all new stories from some of the top authors in modern horror.

SCARY OUT THERE
I have a set of poems in this wonderful anthology of short stories and poetry from Simon Schuster.

THE BEAUTY OF DEATH: The Gargantuan Book of Horror Tales with Peter Straub, Ramsey Campbell and others.
(publisher Independent Legions Publishing) Contains my story, Finding Water to Catch Fire.

FOUR ELEMENTS (kindle) FOUR ELEMENTS (paperback)
(publisher Bad Moon Books)
A poetry and fiction collection with four sections written by four HWA Bram Stoker Award(R) winners, Marge Simon (Earth), Rain Graves (Water), Charlee Jacob (Fire) and myself (Air), cover art by Daniele Serra and color interior illustrations by Marge Simon; received a HWA Bram Stoker Awards(R).
DARK DUET
(publisher Necon E-Books)
A collaborative book of poetry written with Stephen M. Wilson, inspired by music. Cover art by Kiri Moth and interior art by Jill Bauman, a duet of introductions by Tom Piccirilli and Mike Arnzen; a HWA Bram Stoker Award(R) finalist.
CORONA OBSCURA: SONETS DARK AND ELEMENTAL
I wrote the introduction to this exciting and enticing collection.

Dark Discoveries magazine #34 (publisher JournalStone)
Contains my poem, Shadow Rainbow & Other Fragile Things.

SIXTY BLACK WOMEN IN HORROR WRITING - Free download
Sumiko Saulson compiled a list of Black Women in Horror which includes interviews with six of the women (I am one of the 6).
You can buy the book for $5.50 as paperback.
Read Sumiko Saulson blog on her Black Women in Horror book.
7 MAGPIES FILM PROJECT
I am one of the authors of 7 Magpies Movie, an anthology film project conceived by L.C. Cruell. The film is being created with work by 7 black female horror authors & 7 black female filmmakers based on the old nursery rhyme.

The writers include myself, Tananarive Due, Sumiko Saulson, Eden Royce, Crystal Connor, Valjeanne Jeffers, and Paula Ashe.

The directors are Lucy Cruell, Tiffany D. Jackson, Nicole Renee, Robin Shanea, Lary Love Dolley, Meosha Bean, and Rae Dawn Chong.

According to one old superstition, the number of magpies one sees determines if one will have bad luck or not.

7 MAGPIES One for sorrow, Two for mirth, Three for a wedding, Four for a birth, Five for silver, Six for gold, Seven for a secret, Never to be told.

Check out the 7 Magpies Facebook page.
EVENTS
Boskone 54
Feb 17 to Feb 19, 2017: I will be on several panels in Boston MA.

Book Launch for Sycorax's Daughters: A Horror Anthology of Prose and Poetry by African-American women
March 18, 2017; 1 to 3pm: Book signing and conversation will be at the Auburn Avenue Research Library on African American Culture and History in Atlanta GA. Come participate in a panel discussion and meet the African American women writers of the horror anthology, Sycorax's Daughters.

StokerCon 2017
April 26 to 30, 2017: I am a guest and on several panels on The Queen Mary in Long Beach CA. I will also be teaching a workshop on Sat April 29 as part of StokerCon Horror University.

Westercon70
July 1 to 4, 2017: I will be a guest at the Westercon70 in Tempe, AZ.

NECON
July 20 to 23, 2017: I will be at the Northeastern Writers Conference in Providence, RI.

Tai Chi Alchemy
Sept 15 to 17, 2017: I am going to TCA in Sedona AZ. I have attended for many years. There is tons of love and inner calm to be absorbed. Highly recommend and you do not have to know tai chi.

Blerd City Conference
July 29 to 30, 2017: I will be a guest at the Blerd City Conference in Brooklyn, NY. Black + Nerd = BLERD, a blend of a micro-Comic Con with the intersectionality of social issues facing people of color. A two day conference of panels, workshops, film screenings, gaming, comic books, SciFi/Horror/Fantasy Book Readings, and a Children Area.

TusCon 44
Nov 10 to 12, 2017: I will be a panalist and host the Open Mic at this fun SF Convention in Tucson, AZ.

Words on the Avenue (WOTA)
Nov 26, 2017, 6:30pm to 9pm: I am featured poet at Words on the Avenue (WOTA). Cafe Passe 415 N 4th Ave, Tucson, AZ 85705

FIND ME ONLINE

28 Days of Black Women in Horror by Eden Royce - The Dark Geisha blog (2017).

Women In Horror Month interview by Kathryn McGee of the Horror Writers Association (2017).

SFF Poet Spotlight by Bryan Thao Worra, an award-winning Laotian American writer (2017).

A History of Blackness in Speculative Fiction by M. Asli Dukan, Invisible Universe (2016).

Discussing Writing, the Speculative, and Horror University: An Interview with Linda D. Addison By Jonathan Martínez (6/24/2016).

Blood Indigo: Black Women Horror Writers to Read Now by Eden Royce (2/23/2016).

Living Among Legends by Crystal Connor on Horror Addicts (2/22/2016).

What It Takes to Write Strange Stuff my guest post on JG Faherty Blog (2/21/2016).

Linda Addison On Winning A Bram Stoker Award interview on Horror Addicts (2016).

Genesis-The First Black Horror Writers, my blog post on Horror Addicts (2/10/2016).

8 Authors to Follow by Annie Neugebauer (2016).

Intro to Celebrating Black Horror History, by Sumiko Saulson on Horror Addicts (2/1/2016).

93 Horror authors you need to read right now list, from an Examiner Article by S.L.Schmitz (2014).

HWA Poetry Page honoring Women in Horror. Editor, Peter Salomon has poems by Terrie Leigh Relf, Marge Simon and myself (2014).
LISTEN TO ME

Watch my five minute interview on 5 Questions With Narazu Artist Spotlight (July 2017).
KXCI Episode 4: Tales of Tucson …. original radio dramas of the Sonoran Southwest, Check out me talking with Shakespeare about Lady Macbeth at the TUCSON FESTIVAL OF BOOKS at about 14:15-14:25 & 14:48 to 14:52 minutes into the recording (May 2017).
HWA StokerCon Horror University interview, by StokerCon Video Squad (Feb 2017).
Listen to me read my poem PRECIOUS (from my first collection to win a HWA Bram Stoker, CONSUMED, REDUCED TO BEAUTIFUL, GREY ASHES and collage (by me) on SFPA Halloween page (October 2016).
Eating the Fantastic interview by Scott Edelman (June 2016).
The Great Lakes Horror Company interview by Crystal Bourque, and roundtable discussion with Sephera Giron, Andrew Robertson, Bill Snider and Monica S. Kuebler (March 2016).
Genesis Science Fiction Radio internet radio interview by William Hayashi (2/19/2016)
Interview, book reviews and other stuff with Brian and Dave on The Horror Show with Brian Keene
Interview (includes my reading a poem) at 2010 Beyond Blacula reading in NYC by blackscifitv
LESSONS & BLESSINGS
My life is lessons and blessings. How else to explain the path of life that has taken me from the tough streets of Philly to a quirky house in New York? Nestled in the midst of strange and wondrous items I joyfully write even stranger poems and stories.
Each event in my life holds different mixes of lessons and blessings, rarely 50/50. Often the situations that hurt are more lesson than blessing, but both are in the mix. Seeing each painful experience in this way heals the sting, makes me pay attention to the lesson and grow, to bring more light into my life.
My life
unfolding in unexpected dimensions:
take a skinny, awkward introvert,
mix in books of fables, science-fiction, fantasy, horror
Season with surprising blessings, people:
One taught me to laugh,
another to question everything
This one to know that there are no secrets
That one to see everything is hidden,
I learned to cry with my whole body,
That I am beautiful,
I am eternal,
Even broken,
I can heal,
rise from the ashes of a predestined life
find my authentic path
And know:
Unfolding life is imperfect.
Love the only truth.
Lessons and blessings
the only sanity…