LATEST NEWS
GREAT NEWS
FOUR ELEMENTS received the HWA Bram Stoker Award(R) for Superior Achievement in Poetry Collection at the annual award banquet on May 10, 2014, at the World Horror Convention in Portland! Here is the video link to the HWA Bram Stoker Awards(R) banquet. The poetry award is given about 14 minutes into the recording.

Eternal gratitude to publisher Bad Moon Books and my fellow Elements Marge Simon (Earth), Rain Graves (Water), Charlee Jacob (Fire) and for the amazing cover art by Daniele Serra and beautiful full color interior section illustrations by Marge Simon, including a chilling photo by Jim Jacob of Charlee Jacob, and Donald Sidney-Fryer for his wonderful essay and blurb for our book.

Full list of 2013 HWA Bram Stoker recipents
FREE E-BOOK
February was African American History Month here in the United States and Women in Horror Month (WiHM). Sumiko Saulson compiled a list of 60 Black Women in Horror which includes interviews with six of the women (I am one of the 6), two short stories, and an essay.
Free download of Sixty Black Women in Horror Writing.
Available in eBook formats and PDF (to read on computers).

You can buy the book for $5.50 as paperback.

Read Sumiko Saulson blog on her Black Women in Horror book.
You can find me online for February BLACK HISTORY and WOMEN IN HORROR at the following sites:
92 Horror authors you need to read right now list
HWA Poetry Page honoring Women in Horror. Editor, Peter Salomon has poems by Terrie Leigh Relf, Marge Simon and myself.

20 Black Women in Horror Writing by Sumiko Saulson
This list was so popular last year Sumiko Saulson created another list
21 More Black Women in Horror Writing by Sumiko Saulson
Saulson interviewed me as one of authors of FOUR ELEMENTS collection
I was interviewed by Jennifer Thorpe-Moscon for her book How Geek Girls Will Rule the World. It is amazing to be in a book with women from Technoloby, Science, Gaming, SF, Fantasy, Comics and Manga. It is wonderful to be in the SF and Fantasy section with Anne Rice, Lucy Taylor, Esther Friesner, Chelsea Quinn Yarbro and others.
The collaborative poetry collection DARK DUET (publisher Necon eBooks) is a HWA Bram Stoker Awards(R) finalist. Huge gratitude to Stephen Wilson (co-author) for presenting the idea for this book. Cover art by Kiri Moth and interior art by Jill Bauman, plus a duet of introductions by Tom Piccirilli and Mike Arnzen.
HOW TO RECOGNIZE A DEMON HAS BECOME YOUR FRIEND (publisher Necon eBooks), received a HWA Bram Stoker award (my third!). I was honored to be on the final ballot with Maria Alexander, Bruce Boston, G.O. Clark and Marge Simon. HWA Bram Stoker Full List of Winners. HOW TO RECOGNIZE A DEMON HAS BECOME YOUR FRIEND This collection of horror and science fiction short stories and poetry, has a striking cover art by Jill Bauman, and is available from the publisher, Amazon, Barnes and Nobles and Smashwords online. Check out reviews at Collings Notes by Michael Collings, Horror World review by TT Zuma, The Horror Fiction Review by Nick Cato (search for Addison or scroll down page to find my book) and review by Douglas Cobb.
Horror World interview with me is online. They asked questions others have not asked so check it out.
My third collection, BEING FULL OF LIGHT, INSUBSTANTIAL (publisher Space & Time Books), received a HWA Bram Stoker award. This collection of 100 poems, most of them original, has wonderful photography and art by Brian J. Addison. It's available from Space & Time, Amazon.com and other places (see My Favorite Links).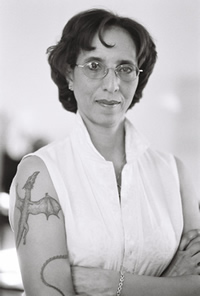 My first two collections: Consumed, Reduced to Beautiful Grey Ashes, and Animated Objects, are still available.
Listen to me...
I enjoy doing live performances so if you can't catch me at a reading (get on my mailing list) you can hear/see me read online at the following places:
Watch video of my reading three poems from my latest collection at Fearzone.
Listen to an interview (includes my reading a poem) at 2010 Beyond Blacula reading in NYC by blackscifitv
LESSONS & BLESSINGS
My life is lessons and blessings. How else to explain the path of life that has taken me from the tough streets of Philly to a quirky house in New York? Nestled in the midst of strange and wondrous items I joyfully write even stranger poems and stories.
Each event in my life holds different mixes of lessons and blessings, rarely 50/50. Often the situations that hurt are more lesson than blessing, but both are in the mix. Seeing each painful experience in this way heals the sting, makes me pay attention to the lesson and grow, to bring more light into my life.
My life
unfolding in unexpected dimensions:
take a skinny, awkward introvert,
mix in books of fables, science-fiction, fantasy, horror
Season with surprising blessings, people:
One taught me to laugh,
another to question everything
This one to know that there are no secrets
That one to see everything is hidden,
I learned to cry with my whole body,
That I am beautiful,
I am eternal,
Even broken,
I can heal,
rise from the ashes of a predestined life
find my authentic path
And know:
Unfolding life is imperfect.
Love the only truth.
Lessons and blessings
the only sanity…